Last November, we wrote here of a major breakthrough occurring at the where, for the first time, delegates approved plans to establish an agricultural work program. Representatives of nations around the world attending the global climate talks in Bonn, Germany, last November officially recognized the need to address agricultural adaptation and mitigation challenges, an objective that has been sought by Solutions from the Land (SfL), 25x'25's parent organization, since the climate talks in Paris in 2017. Now, only a few months later, the North American Climate Smart Agriculture Alliance (NACSAA), an initiative launched by SfL, has submitted to two subsidiary bodies established by the UN Framework Convention on Climate Change (UNFCCC) a series of recommendations in an initial stage of the formation of a joint agriculture work plan. That an agricultural approach to climate change is now being considered is a major policy breakthrough. It positions agricultural landscapes as a solution to climate challenges, and particularly in its focus on ways agricultural landscapes can be managed to produce clean energy and sequester carbon. It's only appropriate that these recommendations come from NACSAA, a farmer-led platform for inspiring, educating and equipping agricultural partners to innovate and implement effective local adaptation practices that sustain productivity, enhance climate resilience, and contribute to the local and global goals for sustainable development.
News of Note

Tumbling Costs for Wind, Solar, Batteries Squeezing Fossil Fuels
Coal and gas are facing a mounting threat to their position in the world's electricity generation mix, as a result of the spectacular reductions in cost not just for wind and solar technologies, but also for batteries – according to research from Bloomberg New Energy Finance (BNEF).
BNEF's latest report on the levelized costs of electricity, or LCOE, for all the leading technologies finds that fossil fuel power is facing an unprecedented challenge in all three roles it performs in the energy mix – the supply of 'bulk generation,' the supply of 'dispatchable generation,' and the provision of 'flexibility.'
In bulk generation, the threat comes from wind and solar photovoltaics, both of which have reduced their LCOEs further in the last year, thanks to falling capital costs, improving efficiency and the spread of competitive auctions around the world.
In dispatchable power – the ability to respond to grid requests to ramp electricity generation up or down at any time of day – the challenge to new coal and gas is coming from the pairing of battery storage with wind and solar, enabling the latter two 'variable' sources to smooth output, and if necessary, shift the timing of supply.
In flexibility – the ability to switch on and off in response to grid electricity shortfalls and surpluses over periods of hours – stand-alone batteries are increasingly cost-effective and are starting to compete on price with open-cycle gas plants, and with other options such as pumped hydro.
Elena Giannakopoulou, head of energy economics at BNEF, said: "Our team has looked closely at the impact of the 79-percent decrease seen in lithium-ion battery costs since 2010 on the economics of this storage technology in different parts of the electricity system. The conclusions are chilling for the fossil fuel sector.
"Some existing coal and gas power stations, with sunk capital costs, will continue to have a role for many years, doing a combination of bulk generation and balancing, as wind and solar penetration increase. But the economic case for building new coal and gas capacity is crumbling, as batteries start to encroach on the flexibility and peaking revenues enjoyed by fossil fuel plants."
BNEF calculates LCOEs for each technology, taking into account everything from equipment, construction and financing costs to operating and maintenance expenses and average running hours. It found that in the first half of 2018, the benchmark global LCOE for onshore wind is $55 per megawatt-hour, down 18 percent from the first six months of last year, while the equivalent for solar PV without tracking systems is $70 per MWh, also down 18 percent. Offshore wind's LCOE is $118 per MWh in 1H 2018, down 5 percent.
BNEF's analysis showed particularly low levelized costs of electricity for onshore wind in India, Brazil, Sweden and Australia, and particularly low levelized costs of electricity for photovoltaics in Chile, India, Australia and Jordan.
Taking India as an example, BNEF is now showing benchmark LCOEs for onshore wind of just $39 per MWh, down 46 percent on a year ago, and for solar PV at $41, down 45 percent. By comparison, coal comes in at $68 per MWh, and combined-cycle gas at $93. Wind-plus-battery and solar-plus-battery systems in India have wide cost ranges, of $34-208 per MWh and $47-308 per MWh respectively, depending on project characteristics, but the center of those ranges is falling fast.
Seb Henbest, head of Europe, Middle East and Africa for BNEF, said: "Competitive auctions for new renewable energy capacity have forced developers, equipment providers and financiers to bear down on all the different costs of establishing wind and solar projects.
"Thanks to this and to progressively more efficient technology, we are seeing record-low prices being set for wind and solar, and then those records being broken again and again on a regular basis. This is having a powerful effect – it is changing perceptions."
BNEF has been analyzing the numbers on levelized costs of electricity for the different technologies since 2009, based on its database of project financings and work by its analyst teams on the cost dynamics in different sectors.
In that nine-year period, the global benchmark LCOE for solar PV without tracking has tumbled by 77 percent, and that for onshore wind by 38 percent. LCOEs for older established sources, such as coal, gas, nuclear and large hydro, have seen only very modest reductions, at best, in that time – and in some countries, they have actually increased. BNEF's lithium-ion battery price index shows a fall from $1,000 per kWh in 2010 to $209 per kWh in 2017.
The implications for the future energy mix of these changing cost dynamics will be discussed at a Bloomberg New Energy Finance Future of Energy Summit in New York on April 9-10. For more information about the event, which brings together 1,000 thought-leaders and decision makers from industry, finance and government, click HERE.
Despite Pressure, California Can Aim Higher on Clean Fuels, Scientists Say
Just as the Trump administration starts mounting new pressure on California over the state's high emission standards for cars, a recent analysis shows the even greater reductions in emissions could be achieved relatively easily with a slight increase in its Low Carbon Fuel Standard (LCFS).
EPA Administrator Scott Pruitt was set this week to overturn an agency ruling handed down late in the Obama administration that the nation's auto manufacturers had the technology to meet a fleet average 54.5 mpg standard by 2025, nearly double the current standard.
But no announcement had come from EPA before Weekly REsource press time today.
A decision by Pruitt to find the earlier ruling "not appropriate" is expected to be followed by EPA lowering the mileage target.
The question would then arise as to what effect it would have on California, which, after decades of struggling with crippling auto-induced smog, received in 2011 a waiver of the Clean Air Act enabling the state to set its own fuel economy standards. The state says the LCFS is needed to meet a carbon emissions reduction goal of 40 percent by 2030.
But Pruitt has repeatedly said in recent weeks that California should not have the ability to dictate a standard higher than that of the rest of the nation, contending it forces automakers to incur higher costs, either by making their entire fleets comply with the state requirements, or necessitating the manufacturing of models for each standard.
Some automakers, however, are now backing off their calls for reducing the proposed 2025 standards, calling on EPA to slow any decision to roll back the fuel economy requirements.
Ford Motor Co. executives at Ford Motor Co. earlier this week urged the administration not to roll back the Obama standard, calling on EPA to preserve one national program vehicle emissions program by not revoking California's waiver that allows the state to adopt stricter efficiency standards.
Automakers worry that if the national rules are significantly weaker than state standards, they would face a patchwork of regulations, creating uncertainty.
Meanwhile, a recent analysis released this week by clean energy and environmental groups say California can reduce carbon emissions by more than 70 million metric tons by 2030, akin to taking 15 million gasoline-powered cars off the road in one year, by adopting a higher target for its Low Carbon Fuel Standard (LCFS).
The standard, adopted in 2009 by the California Air Resources Board requires petroleum refineries and fuel importers to reduce the carbon intensity of the fuels they sell in California. Carbon intensity is a measure of the carbon emissions per unit of fuel over the fuel's life cycle.
The LCFS currently requires a gradual reduction in carbon intensity of 10 percent by 2020 over the level recorded in 2010. Refineries and fuel importers can reduce carbon intensity by either selling fuels that have lower carbon intensity or by purchasing credits generated by sellers of lower-carbon fuels, like electricity, renewable natural gas, ethanol, biodiesel or renewable diesel.
Since it was adopted, the LCFS has reduced carbon pollution emissions in California by more than 30 million metric tons, equivalent to removing 6.4 million gasoline-powered cars from the state's roads in one year. And because the LCFS also reduces toxic air pollution emitted by cars, this program minimizes health impacts in communities that live near freeways, officials say.
The study, "California's Clean Fuel Future: Assessing Achievable Fuel Carbon Intensity Reductions Through 2030," found that California could feasibly increase its LCFS carbon intensity reduction target in 2030 to well more than 20 percent – and perhaps as much as 26 percent – and spur more rapid deployment of clean fuels.
The findings are timely as the California Air Resources Board (CARB) will consider amendments to the LCFS next month, including extending the program from 2020 to 2030 and increasing the target above 10 percent. CARB staff have currently proposed a 20 percent 2030 target.
The LCFS is popular among supporters of clean transportation policies because it has spurred the building of clean fuel infrastructure, increased investments in low carbon fuel production and provided rebates for electric cars and transit buses alike. Officials say the standard has also been a boon to the California economy; since 2011 the program has helped drive more than $1.6 billion in investment in California's clean fuel economy.
The analysis, done by the UK-based research firm Cerulogy, was commissioned by Ceres, NextGen America, and the Union of Concerned Scientists.
"California needs to reduce overall emissions to avoid the worst impacts of climate change," said Jeremy Martin, author of the 2016 report "Fueling a Clean Transportation Future" and senior scientist at the Union of Concerned Scientists. "A stronger LCFS will accelerate the deployment of clean fuels, and this study shows that, despite oil industry claims to the contrary, tougher standards are feasible.
"The LCFS is an effective program at a critical juncture," he said. "We must extend the program and raise the targets high enough to realize the full opportunity for air quality, economic and climate benefits from a cleaner state fuel supply."
PES Bankruptcy OK'd; Ethanol Groups Oppose EPA Settlement Offer
National ethanol trade groups have formally registered their opposition to an EPA proposal to forgive about half of a Pennsylvania refiner's 2016 and 2017 compliance obligations under the Renewable Fuel Standard, claiming the move would give the company a "free pass" and allows it to violate the law without repercussions.
EPA Administrator Scott Pruitt announced earlier this month his plan to forgive some $350 million in compliance obligations racked up by Philadelphia Energy Solutions (PES), the largest refiner on the East Coast. PES is required to buy Renewable Identification Numbers (RINs), which certify a refiner has met its biofuel-blending requirements under the RFS.
PES, which failed to meet its blending obligation and would needed to have purchased RINs to comply with the law, has cited high RIN prices as causing it to seek bankruptcy in January.
Meanwhile, a federal judge on Monday granted the refiner's bankruptcy petition, despite objections from the Justice Department that the PES plan does not adequately protect creditors. The ruling also came despite a request from the Pennsylvania Department of Revenue to halt the PES bankruptcy proceedings, charging the refiner owes some $3.8 billion in fuel taxes.
PES critics say RINs have little to do with the refiner's financial troubles, arguing PES uses outdated business practices and failed to invest in ethanol-blending facilities years ago when it knew the obligations were coming. It was also disclosed that PES' equity firm owner, the Carlisle Group, extracted some $300 million in quarterly payments from the refinery over the last two years for an oil rail terminal it built for PES, but which has proven to be of little use.
Growth Energy and the Renewable Fuels Association (RFA) filed comments with the Department of Justice outlining the biofuel industry's objections to the proposed settlement between PES and EPA, which the industry says would absolve the refinery of key obligations under the RFS.
"The proposed settlement sends the wrong message to industry stakeholders, implying that there are no consequences for violating the law," said Growth Energy CEO Emily Skor. "The Carlyle Group pulled hundreds of millions of dollars out of the company and failed to make the clean energy investments that have allowed other refiners to thrive. The EPA should not reward the Carlyle Group by allowing PES to escape more than 70 percent of its obligations under the Clean Air Act.
"If this sue-and-settle-style settlement is approved, it sends a terrible message to investors who have played by the rules," she said. "With farm income at a 12-year low, rural America can't afford another handout to refinery owners."
Growth Energy's key objections, cited in its comments, include:
The settlement unjustifiably allows PES and its parent companies to substantially avoid their environmental obligations, accepting retirement of 138 million RINs for the 2016 and 2017 compliance periods and the first quarter of 2018 against a Renewable Volume Obligation (RVO) of 467 million RINs, plus the obligation PES incurs in the first quarter of 2018, likely totaling well over 500 million RINs. That is a discount of more than 70 percent.
The proposed settlement allows PES to carry 64.6 million RINs forward as a credit toward 2018 compliance. In addition to allowing noncompliance for 2016 and 2017, the proposed settlement gives PES a head start advantage for 2018 compliance, in front of competitors who have been complying with the law.
"The proposal would resolve the RVO liability not only of the PES debtors, who have asserted that they lack the financial wherewithal to meet their obligations, but it would also give a free pass to non-debtor entities who are clearly liable for the RVO obligations, including the debtors' parent companies and joint venture partners," Growth Energy said. "There is no justification for releasing entities such as PES' parent, the Carlyle Group L.P., which controls hundreds of billions of dollars in assets and clearly has the financial capacity to meet the compliance obligations."
The RFA told the Justice Department the proposal should be rejected "because the terms are patently unfair, unreasonable, and inconsistent with the purposes of the RFS program."
The trade group said the proposed settlement:
Blames PES's financial condition on the RFS, rather than the well-recognized failure to prudently invest and manage its resources;
Unjustifiably waives the vast majority…of PES' RVOs for the compliance period;
Offers expansive releases of liability to PES' parent entities, which should be held legally responsible for RFS compliance;
Allows PES to take 64.6 million RINs that should have been used to satisfy the 2016-2017 RFS obligations and instead carry them forward to satisfy future 2018 RVO obligations; and
Signals the government is willing to overlook when obligated parties misuse the bankruptcy process at the expense of other obligated parties.
"As numerous independent reporters have concluded," the RFA says, "the true causes of PES' financial woes are: rerouting of lower-cost domestic crude oil supplies to Gulf coast refineries, antiquated technology, mismanagement, and lifting of the crude oil export ban."
The RFA says it wants the proposed settlement agreement to be modified to account for the contribution of PES' parent companies; to provide liability releases only for those entities contributing to PES' RINs obligations; and to require PES to use all of its current RINs – including the 64.6 million RINs that the agreement would allow PES to carry forward – to be used toward its 2016 and 2017 RFS obligations.
Meanwhile, despite "win-win" being the operative phrase used by lawmakers describing a solution they are seeking in the political dispute over RIN prices is mentioned, no forward movement has been shown. Some, like Sen. Ted Cruz (R-TX) and other oil industry advocates continue to seek a 10-cent cap on per-unit costs, though even neutral observers say that idea is virtually dead.
The ethanol industry continues to insist EPA lifting a ban on summer sales of E15 would be enough to resolve the RIN issue by generating more ethanol, and with it, more RINs, thereby reducing their price.
Reports late Thursday suggest that President Trump has stepped back from effort to use the power of his office to resolve the issue. A series of meeting held at the White House in recent weeks involving lawmakers and industry representatives from both sides have failed to generate any progress. Sources told Reuters Thursday that Trump, facing the threat of upsetting either of his core political bases, is ready to turn the issue over to Congress, leaving the possibility of using executive action only to reinforce any legislative solution.
Measures are reportedly continuing to be developed. Sen. John Rep. Cornyn (R-TX), an oil industry ally, and Rep. John Shimkus (R-IL), chairman of the House Energy and Commerce environmental subcommittee, say they are developing bills, though their content is, as yet, uncertain. Shimkus, who represents the seventh largest corn-producing congressional district in the country, is expected to be somewhat circumspect with any proposal he may offer.
There is some speculation any reform would target the years beyond 2022 when the legal biofuel mandates set by Congress in 2007 would end and EPA would have direct control over setting blending levels.
New Solar Jobs Map Shows Trends in States, Local Areas Nationwide
The Solar Foundation this week released an updated map on the number of solar jobs in every state, metropolitan area, county, and congressional district, revealing the geographic distribution of America's 250,271 solar jobs.
The updated map provides complete data on solar jobs in all 50 states, along with details on jobs by solar employment sector; solar workforce demographics; solar industry background; and much more. Users can toggle between 2015, 2016 and 2017 data to see the number of solar jobs year over year.
The new solar jobs map is a follow up to the National Solar Jobs Census 2017, the eighth annual report on America's solar workforce issued by The Solar Foundation, a nonprofit educational and research organization. Along with the map, The foundation released 52 fact sheets on the solar workforce in each state, the District of Columbia, and Puerto Rico.
The National Solar Jobs Census 2017 found that nationwide, solar employment declined 3.8 percent, from 260,077 jobs in 2016 to 250,271 in 2017. At the same time, solar jobs increased in 29 states and the District of Columbia, as well as in major metropolitan areas throughout the nation. The growth took place in many states with emerging solar markets, such as Minnesota, Utah, Florida, North Carolina, Pennsylvania, Georgia, and others.
"Our solar jobs map shows that many states and cities bucked the national trend and enjoyed significant jobs growth in 2017," said Andrea Luecke, foundation president and executive director. "As solar technologies rapidly become more affordable and abundant, solar jobs nationwide have nearly tripled since 2010. These jobs are in solar installation, project development, sales and marketing, manufacturing, engineering, and many other skill areas. In the future, states and localities should look to solar as a key strategy for building local economies and supporting high-quality careers."
California remained the state with the leading number of solar jobs in 2017 (86,414), though jobs in the state declined 14 percent from 2016. Among states that saw solar job growth, the state that added the most jobs in 2017 was Utah, followed by Minnesota, Arizona, New Jersey and New York.
Metropolitan areas and counties in diverse parts of the country saw significant job growth in 2017. The metro area with the highest total number of solar jobs was San Francisco-Oakland-Fremont, California, at 24,474 jobs, though employment declined 6 percent from 2016. Some of the metro areas where jobs grew significantly in 2017 include greater Provo-Orem, Utah (3,798 total jobs), New York-North New Jersey-Long Island, New York (12,038 jobs); Minneapolis-St. Paul-Bloomington, Minn. (3,803 jobs); Phoenix-Mesa-Scottsdale, Ariz. (7,204 jobs); and Philadelphia-Camden-Wilmington (2,319 jobs).
Other metropolitan areas that saw job growth in 2017 include greater Denver, Colorado; Miami, Florida; Orlando, Florida; Tampa, Florida; Cincinnati, Ohio; Kansas City, Missouri; Charleston, South Carolina; Milwaukee, Wisconsin; St. Louis, Missouri; and Detroit, Michigan, among others.
"We are very excited to see so much solar job growth in Philadelphia," said the city's mayor, Jim Kenney. "Philadelphia has taken several steps to expand solar development, including our work to achieve SolSmart Gold designation, and launching the Solarize Philly program. We are committed to reducing citywide carbon emissions 80 percent by 2050 and transitioning to a 100-percent clean energy future. A solid solar workforce is key to achieving those goals."
"We believe the transition to a clean energy future is one of the greatest opportunities of the 21st century for cities to improve community health, quality of life, environmental sustainability, and a vibrant and robust economy," said Orlando Mayor Buddy Dyer. "Our city is proud to be a part of growing solar jobs here in Florida and we remain committed to helping lead the transition to 100-percent renewable energy."
Data for the National Solar Jobs Census is based on a rigorous survey of solar establishments conducted between October and November 2017. The Census defines a solar employee as someone who spends at least 50 percent of his or her time on solar-related work.
Complete information on the National Solar Jobs Census 2017 can be viewed at SolarJobsCensus.org.
The Solar Foundation is an independent, nonprofit organization whose mission is to accelerate adoption of the world's most abundant energy source.
State Roundup: CAISO Says Increased Renewables to Save $2.6B in Costs
In California, the board of governors for the state's Independent System Operator (CAISO), citing increasing increased distributed energy generation (DEG) like rooftop solar, and increased efficiency programs, has approved a 2017-2018 Transmission Plan to support electric system reliability while canceling or modifying previously approved projects to avoid $2.6 billion in future costs.
The 2017-2018 Transmission Plan, which outlines the proposed design and construction of transmission networks for the next decade, identified 17 new transmission projects at a combined cost of nearly $271.3 million. The plan also recommends the cancellation of 18 transmission projects and revisions of 21 other projects in Pacific Gas & Electric (PG&E) area and two in the San Diego Gas & Electric area, avoiding an estimated $2.6 billion in future costs
The changes were mainly due to changes in local area load forecasts, and strongly influenced by energy efficiency programs and increasing levels of residential, rooftop solar generation, CAISO leaders said.
Another seven PG&E projects are either on hold, or recommended to be delayed, pending further review in future transmission planning cycles.
The recommendations follow an extensive, months-long public stakeholder process, including consideration of public comments. The annual transmission plan is developed in close coordination with the California Energy Commission, California Public Utilities Commission and stakeholders over 15 months, culminating every March with board action.
The 2017-2018 plan also includes special studies on the impact of a 50 percent renewable resources policy, the early retirement risks of the gas fleet and updates to previous studies on the benefits of large scale storage. Click here to view the entire 2017-2018 Transmission Plan.
In Utah, Gov. Gary Herbert has signed into law two bills that solar advocates say will help future homeowners through cost savings and increased consumer protection.
A consumer protection measure, Senate Bill 157, requires solar companies to provide all residential customers with a disclosure statement that summarizes key terms in an agreement. The disclosure statements were modeled on standardized forms developed by the Solar Energy Industries Association (SEIA).
Utah is the fourth state to enact legislation based on SEIA's consumer protection work, following Florida, Nevada and New Mexico.
Herbert also signed into law Senate Bill 141, which provides a two-year extension of a $1,600 tax credit for Utah customers who adopt solar systems, providing what advocates say is much-needed stability as the industry adapts to recently restructured solar rates for homeowners.
Beginning in 2021, the credit will be gradually phased down until it is eliminated at the end of 2023.
"The solar industry welcomes proactive consumer protection actions, like SB 157, which ensure transparency and an educated consumer, both essential ingredients for growing the solar market," said Sean Gallagher, SEIA's vice president of state affairs. "These bills are a major win for Utah's solar customers and businesses."
Ryan Evans, president of the Utah Solar Energy Association, said the in the state "depends on customers being well-informed about their solar transactions. We thank Gov. Herbert and the legislature for giving solar consumers the same kind of protections they get when making everyday purchases. Without a doubt, these two pieces of legislation will allow the Utah solar market to continue to grow."
Utah is the eighth largest solar state in the country, with 1,599 megawatts of cumulative solar capacity installed. The state's solar industry employs 6,170 workers, ranking it 12th among states, and fourth for solar jobs per capita. The workforce grew by 40 percent last year, adding more than 1,700 jobs.
SolarWindow Awarded DOE Grant for Advanced Manufacturing
SolarWindow Technologies Inc., a developer of transparent, electricity-generating coatings for glass windows and flexible veneers, has been awarded its first-ever advanced materials manufacturing Cooperative Research and Development Agreement (CRADA) by the DOE Office of Energy Efficiency and Renewable Energy's (EERE) Advanced Manufacturing Office (AMO).
The award can be viewed by clean energy advocates as timely, if not symbolic. It follows the congressional passage of an omnibus, fiscal 2018 spending bill that rejected Trump administration calls to gut EERE, instead boosting the agency's spending by 16 percent, up to $2.3 billion.
SolarWindow was awarded the CRADA after submitting a proposal outlining its process technologies and fabrication methods to DOE's Roll-to-Roll Advanced Materials Manufacturing Consortium. The group is led by Oak Ridge National Laboratory (ORNL) and includes Argonne National Laboratory (ANL), Lawrence Berkeley National Laboratory (LBNL), and the National Renewable Energy Laboratory (NREL).
The CRADA will be carried out with the DOE by SolarWindow, ANL and NREL.
"This CRADA supports our development of novel coating and fabrication methods, manufacturing methods, and, in turn, expands our budget to help us reach our goal of bringing SolarWindow products to market," said SolarWindow President and CEO John Conklin. "We're honored to receive this award and grateful for the U.S. Department of Energy's commitment to backing American ingenuity, manufacturing and jobs."
Eligibility for the award was based on companies or organizations that develop and manufacture devices and systems in specialized areas for commercial applications, or that will be able to manufacture products as a direct result of the award.
SolarWindow is the developer of transparent electricity-generating glass, which when fabricated into windows, could turn entire buildings into vertical power generators. The company estimates that the market for SolarWindow glass products for tall towers and skyscrapers represents a $100 billion opportunity.
Targeting the estimated 5.6 million U.S. commercial buildings, which consume almost $150 billion in electricity annually, the company's transparent electricity-generating windows could reduce energy costs by up to 50%, according to independently-validated company power and financial modeling.
EERE's Advanced Manufacturing Office (AMO) supports early-stage research to advance innovation in U.S. manufacturing and promote American economic growth and energy security.
This DOE Laboratory Consortium is designed to work with industry partners to address roll-to-roll (R2R) manufacturing deficiencies using an advanced materials manufacturing (AMM) approach. The mission of the consortium is to address the manufacturing "gap" that is developing in R2R between U.S. manufacturers and the rest of the world. The Consortium Laboratories have unique capabilities that complement each other for the research, development, testing and evaluation of energy saving technologies.
The objective of the Consortium is to partner with material, component, device and system manufacturers in order to investigate, improve and scale R2R process methodology that will increase manufacturing levels to internationally significant quantities. Creation and preservation of domestic manufacturing jobs is a primary goal.
IRENA to Help Deliver Low-Carbon 2022 Winter Olympics in China
The International Renewable Energy Agency (IRENA) has signed a co-operation agreement with the People's Government of Hebei Province, China, to provide the city of Zhangjiakou with a renewable energy roadmap that will support its ambition to deliver a low-carbon Winter Olympics in 2022.
The agreement will also help the city become China's first energy transition pilot city. As co-host of the Winter Olympics with Beijing, Zhangjiakou aims to generate 50 per cent of its power from renewable sources by 2020.
The agreement, signed by IRENA Director-General Adnan Z. Amin and the Governor of Hebei Province, Xu Qin, will support the establishment of a 'low-carbon Olympic zone' in Zhangjiakou, with plans for both the Olympic center and Olympic stadiums to be powered by renewable energy. IRENA will also provide strategic advice in the context of the development of an International Center for Renewable Energy Industry Innovation in Zhangjiakou City.
"China has made remarkable progress in the pursuit of renewable energy and in the transition towards a modern energy system," said IRENA Director-General Adnan Amin at the signing of the Memorandum of Understanding. "From renewable energy adoption to technological innovation – China is emerging as a leader of the new energy economy and a key actor in energy transformation.
"The pursuit of a low-carbon Winter Olympics in 2022 will not only support China's ambition to lower harmful emissions, but it will also see them pioneer a movement towards the cost-effective decarbonization of the world's greatest spectacles," Amin said. "This agreement reflects the Agency's deepening cooperation with China and will facilitate a positive, two-way exchange of expertise and knowledge."
Governor of Hebei Province, Mr. Xu Qin said: "(China) President Xi Jinping's strategic vision for an ecological civilization has significantly advanced environmental protection in China, greatly benefiting Chinese people whilst representing China's contribution to global green development. Hebei Province will realize the vision proposed by President Xi, by prioritizing ecological protection and exercising green development, as we expedite the speed at which we build a beautiful Hebei.
"With abundant renewable energy resources – particularly the area of Zhangjiakou City – the potential of this cooperation with IRENA is broad and bright," Xu said. "As both sides work to advance R&D, technology innovation and the broader development of the renewable energy industry, this will support our planning for a low-carbon Winter Olympic Games."
The Games will be the first major global sporting event held in China since the Beijing Olympics in 2008. Co-host Zhangjiakou, located approximately 200 kilometers from Beijing, has been identified as having a strong renewable energy resource endowment, with abundant wind, solar and biomass potential in the region.
Between 2012 and 2016 China witnessed a 10-fold increase in solar energy adoption, and in 2017 alone, it added 53 gigawatts (GW) of PV. China announced an intention to invest $361 billion in renewable power generation by 2020. China chaired IRENA's 14th and 15th Council meetings and will preside over the agency's 9th Meeting of the Assembly in January next year.
IRENA is a global intergovernmental organization with 156 Members (155 States and the European Union) and an additional 24 states in accession, supporting countries in their transition to a sustainable energy future.
SoftBank, Saudi Arabia Sign MoU to Build Giant 200-GW Solar Park
Japanese multinational conglomerate SoftBank Group's Vision Fund has signed a memorandum of understanding (MoU) with Saudi Arabia to build the world's largest solar facility, which expected to grow to 200 gigawatts (GW) by 2030.
The massive project represents half of all current global solar capacity – 400 GW, which is more than the world's current global nuclear capacity of 390 GW.
Planned to be installed in phases and spread throughout Saudi Arabia, the project's initial phase will have 7.2GW of capacity which is estimated to cost $5bn.
The project is designed to contribute to Saudi efforts to reduce its dependency on crude oil to generate power.
Reuters reports that Saudi's entire installed power capacity is currently around 60 GW, virtually all provided by power plants powered by between 300,000 and 800,000 barrels of crude oil per day. At the current price of $70 per barrel, making the oil used for domestic power available for export could increase Saudi annual oil revenues by some $7 billion-$20 billion.
The excess capacity the solar facility would offer would likely be exported to neighboring countries or used by industry.
SoftBank Chief Executive Masayoshi Son told reporters in New York that some $200 billion is planned to be invested for the proposed project which includes the solar panels, battery storage and a manufacturing facility for panels in Saudi Arabia.
Son said the project could generate up to 100,000 jobs and save the country an estimated $40 billion in power production costs.
Of the total cost required for the first phase of the project, $1 billion will be funded by SoftBank's Vision Fund, while the remaining will be met through project financing.
Toyota Reveals World-First Flexible Fuel Hybrid Prototype in Brazil
A prototype of the world's first hybrid flexible-fuel vehicle (Hybrid FFV) debuted in an event Toyota held this week in Brazil.
With stakeholders, including the state government, universities and the sugarcane association (the Sugarcane Industry Union: UNICA) attending, the event in Sao Paulo marked the unveiling of a prototype that is the combination of a flexible-fuel vehicle (FFV) that can be powered by both gasoline and alternative fuels such as ethanol, and Toyota's hybrid system which combines a combustion engine and an electrical powertrain.
Hybrid FFV is a new powertrain system that Toyota says it is developing with an aim to popularize Hybrid Electric Vehicles in Brazil and contribute to the environment through reduction of carbon dioxide (CO2) emissions.
Hybrid FFV has the potential to drastically reduce total CO2 emissions as it is built on Toyota's hybrid system that has high energy efficiency and low emission levels, and it also leverages the CO2 reabsorption capacity of ethanol, a plant-derived 100-percent renewable fuel, company officials say.
The prototype uses the Toyota Prius as a base model, which is currently sold and becoming popular in Brazil.
Toyota's says its initial studies indicate that Hybrid FFV has a great advantage in environmental performance compared to a standard FFV, when estimating CO2 emissions starting with the extraction of the raw material, through its distribution at the fuel pumps to the ignition in the combustion process of the car. If it is fueled only by sugarcane-based ethanol (E100 fuel), the results are even better.
Toyota says the development of Hybrid FFV represents one of the company's efforts to achieve its "Environmental Challenge 2050," where by 2050 it seeks to reduce vehicle CO2 emissions by 90 percent from 2010 levels.
Another objective of the challenge is to completely eliminate CO2 emissions from the vehicle lifecycle, including materials, parts and manufacturing. In line with that goal, Toyota says it plans to have more than 5.5 million electrified vehicles in its global new vehicle sales by 2030.
"I am very proud of our Toyota do Brasil engineers that worked closely with our engineers in Japan to develop the world's cleanest hybrid vehicle that uses ethanol for our Brazilian customers," said Steve St. Angelo, senior managing officer of Toyota Motor Corporation. "The invention demonstrates our journey in providing a new mobility society."
Toward the commercialization of Hybrid FFV in Brazil, Toyota will collect various data through real-world road testing in the country going forward and evaluate the system's reliability, durability, and powertrain performance.
Interactive Map Shows Global Wind Evolution Growing
Global wind advocates say the latest figures show 2017 was another great year for the industry and have developed an interactive map demonstrating the sector's growth.
The Evolution of Wind Power is the result of a cooperation between The Global Wind Energy Council (GWEC) and renewable energy software company Greenbyte. The interactive map reveals the cumulative installed capacity per country, continent and the world between 1981-2018.
Over 2017, China continued its incredible growth and has added an additional 19,500 megawatts (MW) of fresh wind. With 188,232 MW installed capacity, China remains the world's largest regional market for new wind power development.
Pakistan again almost doubled its installed wind power capacity, bringing it to 792 MW in total.
Another fast-moving Asian country – Thailand – showed a 50-percent increase in installed capacity from last year, Thailand had some of the most impressive growth in 2017 and has now reached a total capacity of 648 MW.
The UK had an excellent year with 4270 MW installed in 2017 – an increase of about 30 percent from the previous year. Ireland also added significantly, reaching 3127 MW of installed capacity. a 16-percent increase from 2016.
2017 was also a great year for Latin America. Brazil had an excellent year in 2016, adding 2GW, and still managed to add an another 2GW this year, reaching a total of 12,763 MW. Chile and Honduras both grew their installed wind power capacity by more than 25 percent.
Established wind power nations Germany and the United States have kept a steady growth rate with about 10-percent new capacity added in 2017 each.
Other countries that experienced significant growth in installed wind power capacity last year were Belgium, up 20 percent to 2843 MW; India, up 15 percent to 32,848 MW, and France up 14 percent to 13,759 MW.
______________________________________________________________
Editor's Note: We here at 25x'25 welcome companies and organizations with a major stake in the continued growth and development of renewable energy across America. We invite those interests to increase visibility and demonstrate a commitment to a clean and economically vibrant energy future by taking advantage of opportunities to sponsor The 25x'25 Weekly REsource, a highly acclaimed newsletter distributed to key state and federal policy makers, their staff and a wide range of stakeholder organizations. For sponsorship information, click HERE.
Upcoming Events

7th Annual Heating the Midwest Conference Set for May 1-3
"Heating the Midwest," an annual conversation about the role that biomass can and should play in providing space and industrial heating in the region, will be held this year at the Black Bear Resort, Carlton, MN, May 1-3.
"Heating the Midwest" brings together forestry, forest products manufacturing, agriculture, and energy professionals together to hear about the sector's recent successes and discuss how they might catalyze further growth in the sector.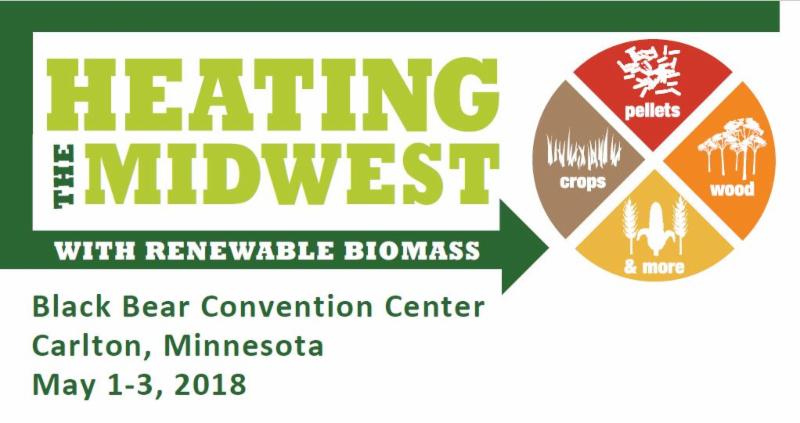 This year's conference agenda will focus on alliances and market growth strategies, asking how the current base of support for biomass thermal energy might be expanded to generate not only increased policy momentum, but also overall familiarity with its operational, economic and societal benefits.
The upper Midwest is rich in both agricultural and forest biomass streams, and both sectors generate significant economic activity across the region and the utilization. To ensure that the value of these resources is maintained, their utilization as a renewable thermal energy source must be both preserved and expanded. This year's conference agenda is shaping up to closely examine each.
Featured panel conversations include:
Message and Messenger: Rethinking How Biomass Thermal Takes Itself to Market
How Biomass Thermal Continues to Escape the Attention of Clean Energy Champions in the Upper Midwest
Roll Call: Ensuring that Everyone Who Benefits from a Strong Biomass Thermal Energy Industry is on the Team
The Perfect Fit: Examining Biomass Thermal Projects that Work in Spite of Challenging Market Conditions
Feast or Famine: Assessing the Current Inventory of Available Biomass Inventories in the Upper Midwest
The Effort to Push Biomass Heat into New Applications Underway in the Upper Midwest
For a detailed agenda, click HERE.
To register, click HERE.
For sponsorship information, click HERE.
For a conference flyer, click HERE.
Save the Date: 2018 Rural Energy Conference Oct. 22
Save the date, Oct. 22, for the American Council for an Energy Efficient Economy's (ACEEE) first-ever Rural Energy Conference. Small towns and rural communities across the United States face unique energy challenges because of their sparsely populated areas. They offer untapped potential for energy efficient technologies and programs.
The conference will be held at the Georgia Tech Global Learning Center in Atlanta, GA.
The one-day, multi-track conference, which will precede the two-day annual meeting of the Southeast Energy Efficiency Alliance, will discuss the role of energy efficiency and the energy burden of low-income customers in rural communities. Leaders from industry, utilities, cooperatives, nonprofits, academia, and government will explore how tailored efficiency programs can enable economic growth and social equity in rural and small-town America.
Small towns and rural countryside make up three fourths of the land area in the United States and are home to 14 percent of the total U.S. population. Rural America, defined as areas with a population of less than 50,000, is also a way of life with a proud and independent culture all its own. Just as rural and small-town America's lifestyle is unique to its geography, so too are its energy, economic and societal challenges.
Likely participants include rural utilities (including IOUs, Co-ops and Munis) staff; technology providers and program implementers; federal and state agricultural, energy and economic development personnel; energy efficiency, rural and low-income NGOs and foundations; and federal, state and local policymakers.
Visit the conference web page for more information, including registration rates and accommodations, and contact conference organizers with any questions or to learn about sponsorship opportunities.
Other events of interest to 25x'25 partners and other renewable energy stakeholders can be found by clicking
here
.