Ethanol advocates and industry leaders received good news last week when DOE officials unveiled two studies, one identifying high-octane blendstocks that could be blended into gasoline for better performance, and the other outlining a new mathematical equation that quantifies the fuel efficiency potential associated with different fuel properties. Released by the department's Co-Optimization of Engines and Fuels initiative (Co-Optima), the reports represent a major milestone in the first-of-its-kind research that aims to simultaneously transform both transportation fuels and vehicles to maximize performance and efficiency. The department and its scientists are also looking to minimize the environmental impact and accelerate the widespread adoption of innovative combustion strategies. The reports build on Co-Optima's research data first released last June that showed ethanol is the leading candidate fuel additive to achieve 2025 efficiency and clean air goals for the American transportation system.
Cruz Takes RFS Protest to PES, Ethanol Advocates Respond, White House Sets Meetings
A campaign-like rally staged this week at a Pennsylvania refinery by Sen. Ted Cruz (R-TX) to support his ongoing battle over the Renewable Fuel Standard (RFS) drew a wide round of criticism from fellow lawmakers and the ethanol industry.
Bloomberg news service reported late Thursday the increased political pressure on both sides of the issue has prompted President Trump to call two meetings at the White House, one later today and another next Tuesday.
Bloomberg news service reported late Thursday night that EPA Administrator Scott Pruitt, USDA Secretary Sonny Perdue, and possibly Energy Secretary Rick Perry will meet to discuss possible changes to the RFS.
The follow-up meeting next Tuesday with Trump will bring together Iowa Senators Chuck Grassley and Joni Ernst, both Iowa Republicans, Cruz and Sen. Pat Toomey (R-PA).
Cruz met Wednesday with workers at the Philadelphia Energy Solutions (PES) refinery, which last month filed for bankruptcy, claiming the high cost of Renewable Identification Numbers (RINs) needed for the facility to comply with the RFS had pushed it over the fiscal edge.
PES holds no ethanol for blending, so to comply with the RFS, it must purchase RINs from other refineries who have met their blending requirements and have an excess of the credits to sell off.
The senator from oil-rich Texas told hundreds of PES workers RIN trading has made "Wall Street speculators and giant integrated companies" a "windfall," while smaller refineries like PES suffer. Cruz, who has been an opponent of the RFS for years, has demanded a "reform" of the federal mandate.
To try and force a change in the program, last October, he put a hold on the nomination of Iowa Agriculture Commissioner Bill Northey to a USDA undersecretary post- a move that has angered the Iowa congressional delegation and left Agriculture Secretary Perdue unhappy.
Meanwhile, ethanol supporters say PES financial troubles stem not from the RFS, but from bad business decisions.
Earlier this week, Reuters news service published a story showing that contributing to PES' financial woes were huge payments made throughout 2016 and 2017 for the services of a rail terminal owned by a private equity group with holdings of some $178 billion, the Carlyle Group, which also owns PES. The refinery, the largest on the East Coast, was making quarterly payments of $30 million to the rail terminal built to accept crude oil for PES. But Reuters said the rail facility often sat idle, with few trains making delivery.
Reuters reported the rail deal made in 2015 in effect guaranteed big payouts to Carlyle, regardless of whether the refinery benefitted from the arrangement. The news service reported that when oil market conditions made the rail shipments unprofitable later that year, the refinery took heavy losses, while its investors continued to collect large distributions for two more years.
Reuters said the terminal deal was among others Carlyle imposed on PES in the years leading up to last month's filing for bankruptcy, resulting in the equity group collecting nearly $600 million from PES until the refinery sought protection. The news service said Carlyle paid $175 million in 2012 for a two-thirds stake in PES.
Grassley, whose state is the nation's largest producer of ethanol and biodiesel, and benefits widely from the RFS, cited the report from Reuters and other accounts of PES business troubles.
"Every independent study shows the PES bankruptcy was due to management decisions that did not work out, not the Renewable Fuel Standard," Grassley said. "PES knows this to be true."
He said PES management and its private equity owners appear to be "scapegoating the RFS to distract from their own failings, which have risked the livelihoods of more than a thousand workers. PES should level with its employees, who deserve an honest explanation of the facts."
Grassley said that "like the refining industry, America's biofuels industry creates tens of thousands of middle class jobs that support families across the country. I've long advocated for an all-of-the-above strategy to help secure America's energy independence. There's no reason biofuels and other renewables can't exist alongside conventional fuels."
Emily Skor, CEO of Growth Energy, an ethanol manufacturers trade group, said Cruz "seems more interested in the spotlight than facts."
She said if the Texas senator "cared about jobs, he would support workers in the heartland who produce America's homegrown energy and stop spreading falsehoods about the RFS. As the University of Pennsylvania explained and Reuters reported, workers at PES deserve real answers for the financial troubles facing the refinery, and that starts with investors who drained the company while other U.S. refiners flourished under the RFS."
American Coalition for Ethanol (ACE) CEO Brian Jennings was similarly dismissive of Cruz' trip to Philadelphia, stating that Cruz's "increasingly desperate publicity stunts do not change the fact that the problems facing Philadelphia Energy Solutions have nothing to do with the Renewable Fuel Standard and everything to do with mismanagement by the PES ownership group.
He said that in recent days, "it has been disclosed by current and former PES employees that the Carlyle Group, a private equity firm that owns two-thirds of PES, prioritized cash distributions to shareholders over small investments that would have enabled the refinery to comply with the RFS. It is shameful that Senator Cruz is calling on Uncle Sam to bail out PES for mismanagement blunders when most U.S. refiners have been complying with the law."
Jennings said granting relief from a summer ban of E15 sales in most of the country, along with higher blends, ethanol blending would increase the RIN supply, bring down RIN prices and keep the RFS statute intact.
Striking a tone similar to that of other industry leaders, Brooke Coleman, executive director of the Advanced Biofuels Business Council (ABBC), said Cruz "would blame U.S. biofuels for anything to get a headline, but that doesn't make it true."
The ABBC head said the RFS has "worked for over 12 years. It supports hundreds of thousands of jobs, including manufacturing jobs at over 200 biorefineries. Meanwhile, refiners like PBF and Valero are posting rising profits – with a potential 20 percent boost under the new tax bill. PES has problems, but the more policymakers learn about the situation, the more it looks like a smoke screen cooked up by refinery owners seeking a handout."
Renewable Fuels Association President and CEO Bob Dinneen said if Cruz "truly cares about the jobs at PES, he ought to focus his angst on the investors who sacrificed their own refinery for more lucrative investments."
Dinneen said Cruz "is really protecting corporate greed," contending that a proposal from the Texas senator and others to cap RIN prices "would not protect [PES] workers, and would most-assuredly risk agricultural jobs across the country."
Meanwhile, staffers with Sen. John Cornyn (R-TX) are drafting legislation that would offer what is being called a compromise on restructuring RINs to stabilize their price. But both the ethanol and oil industries oppose the suggested mechanism.
Reuters reported last week that Cornyn is seeking to create a new level of RINs. In addition to the D6 RINs, which are generated by the blending of conventional ethanol in gasoline, Cornyn's plan would offer a D8 RIN.
The new D8 credit would apply to that ethanol blended into gasoline at a content level of at least 10 percent, while the existing D6 RIN pool would then cover only that ethanol blended at a level of below 10 percent. The latter currently represents the largest portion of fuel sold in the United States.
Reuters quote sources as saying Cornyn believes that under his plan, common D6 RIN prices would tumble, saving refiners money. The higher-blend D8 credits would cover a smaller portion of the market but theoretically sell at a premium, preserving an incentive for refiners to invest in more ethanol blending infrastructure.
But the American Petroleum Institute reportedly put off a vote in support of the D8RIN, due to opposition to the proposal with the leading U.S. oil industry trade group.
"Biofuel and agricultural voices do not support the D8 RIN," the ABBC's Coleman told Reuters.
Still, one incentive Cornyn hopes will draw the ethanol industry's favor is a waiver of the ban on E15 summer sales. But getting fellow lawmakers to accept that may be difficult.
Legislation that would have lifted the ban stalled in the Senate last summer, the victim of indifference from oil-state lawmakers, who declined to move it beyond committee.
EPA Administrator Scott Pruitt said in November a Clean Air Act provision prohibiting the sale of E15 during the summer "practically doesn't make any sense," acknowledging stakeholder evidence showing the higher blend had no more – or even less than – the impact on air quality as E10. Pruitt said his agency would grant the waiver "if the statute authorizes us to do it."
No movement on the waiver has been announced by EPA and it is unclear if it might be an option that will be taken under consideration at the White House summit.
Reuters quoted one source as saying next week's meeting would focus on short-term solutions to help PES continue operating. PES is asking a bankruptcy judge to drop some $350 million the refinery currently owes EPA to meet its compliance requirement under the RFS. Other sources told Reuters the meeting next week will be held to consider whether to cap prices for biofuel credits, a move favored by Cruz; lifting the ban on E15 summer sales; or means to remove speculators from the RIN market.
Fixing the RFS is Getting Easier and Easier: U of I Researcher
A University of Illinois researcher says while refiners, ethanol interests and lawmakers debate whether measures to stem the increasing price of Renewable Identification Numbers (RINs) are needed to "fix" the Renewable Fuel Standard (RFS), "it is not out of the realm of possibility for D6 RINs prices to fall back to their pre-2013 level of just a few cents without making any changes to the RFS."
Even though there has been no shortage of ideas in recent months about how to "fix" the RFS, Scott Irwin, with the university's Department of Agricultural and Consumer Economics, says "'fixing' the RFS is getting easier and easier."
Among the proposals aimed at the RFS are the application of the various waiver authorities, expanding the number of small refinery exemptions, and a $0.10 per gallon cap on the price of the RIN credits used to comply with the RFS.
The reason cited over and over for the need to fix the RFS is the high cost of ethanol RINs borne by independent "merchant" refiners, said Irwin, noting the January declaration of bankruptcy by Philadelphia Refining Solutions, which cited RIN costs as a major contributing factor.
Irwin says there is no argument that the cost of D6 ethanol RINs has skyrocketed since 2012. The disagreement is whether refiners have to absorb most of the RINs costs or are able to pass them on to fuel blenders in the form of higher gasoline and diesel blendstock prices.
"What seems to have gotten lost in all the noise surrounding the political war over the RFS is how rapidly the conditions are changing that created the high ethanol RINs prices in the first place," Irwin writes. "The key is the 'gap' between the ethanol blend wall and the conventional ethanol mandate."
In his study, "Fixing the RFS is getting easier and easier," Irwin says that while the "political battle over the RFS has centered on the high price of ethanol RIN credits that are used to comply with the RFS conventional ethanol mandate," his research shows that high D6 RINs prices can be directly traced to conventional ethanol mandates that exceed the E10 blend wall, creating a gap that has to be filled by biodiesel.
"When biodiesel takes on the role of the 'marginal gallon' for filling the conventional ethanol mandate, this forces the price of a D6 ethanol RINs to equal the much higher price of a D4 biodiesel RINs," the researcher writes.
"This is essentially the story of the RFS and the resulting political battles since 2012, he says. "What has received little notice is how rapidly the conventional ethanol gap has shrunk since 2014 due to the combination of: (1) the crash in crude oil prices stimulating gasoline consumption, and (2) an improving economy. This means it is not out of the realm of possibility for D6 RINs prices to fall back their pre-2013 level of just a few cents without making any changes to the RFS. In this sense, 'fixing' the RFS is getting easier and easier."
Pruitt Offers Commitment to Biomass Carbon Neutrality
In a visit to New Hampshire last week, EPA Administrator Scott Pruitt said his agency is developing a carbon-neutral policy for biomass.
"For years, the federal government rendered most U.S. forestry producers ineligible for federal procurement projects and created confusion around biomass carbon neutrality," Pruitt said in a press statement on his visit. "Understanding the importance of the forest products industry to the State of New Hampshire, EPA is focused on clarifying regulations that were encumbering the industry."
Biomass industry leaders have for years wrestled with regulators over federal recognition of the role of biomass in a carbon emission reduction strategy. A National Climate Assessment issued in 2014 by a federal inter-agency research group showed that energy from biogenic sources such as woody biomass could displace up to 30 percent of the nation's current U.S. fossil fuel consumption, including coal-burning power plants.
But EPA has yet to take meaningful strides toward a final policy clearly recognizing biomass as a solution to reduce carbon emissions and finally complete a long-awaited framework for measuring carbon from biomass energy.
Shortly after taking office last year, President Trump called on federal agencies to review federal regulations and seek comment on regulatory barriers with an eye towards repealing, replacing or modifying them.
EPA says that among the more than 60,000 comments it received, members of the forest and forest products community highlighted a number of concerns with EPA's past regulatory treatment of the industry.
"Top concerns included whether EPA had, to date, failed to take proper account of the reality that energy derived from biomass may, in appropriate circumstances, be recognized as carbon neutral, along with the agency's own procurement recommendations for wood and lumber products," EPA said in the press release.
In 2011, EPA submitted a "Draft Accounting Framework for Biogenic CO2 Emissions from Stationary Sources" to the agency's Scientific Advisory Board (SAB). The draft accounting framework sought to identify and outline the scientific and technical considerations that come into play in ascertaining the extent to which the production, processing and use of biomass materials at stationary sources is indeed carbon neutral.
Some environmental groups have disputed the validity of carbon-neutral wood biomass, claiming that harvesting forests for power generation would trigger big swings in carbon emissions.
Forestland producers argue that well managed woodlands areas can be harvested in a way to preserve carbon neutrality and, in some cases, build the carbon "sink," or reserves, present in forest grounds.
The agency updated the accounting framework in 2014, but after seven years of ongoing review and analysis of this challenging issue, the SAB has yet to reach consensus.
Meanwhile, EPA received direction from Congress through in the Consolidated Appropriations Act of 2017, a fiscal 2017 spending bill adopted last spring that covered some agencies, which urged federal agencies proactively recognize forest biomass as a renewable agency source and establish policies that reflect its carbon neutrality.
EPA says that with the congressional directive and an executive order from the White House, it has joined DOE and USDA in a multi-agency effort to establish a mechanism for federal cooperation and consistency on the use of biomass.
For its specific part, EPA says it has incorporated into its ongoing review of Clean Air Act permitting programs a concerted effort to develop a range of options consistent with a carbon-neutral policy for biomass from forests and other lands and sectors.
The agency said it is also developing actions to clarify its own federal procurement recommendations, issued by the Obama administration in September 2015.
As initially drafted, the recommendations only recognized a single-forest certification standard as qualifying for federal procurement opportunities. EPA now says the designation effectively made a large majority of responsibly managed forests, including those certified by the Sustainable Forestry Initiative and the American Tree Farm System, ineligible to participate.
EPA officials say they are now working to guarantee consistent procurement recommendations. The agency says it is also "working to ensure, as appropriate, either parity with, or deferral to, USDA's preexisting mandatory purchasing requirements for federal agencies, as set out under its BioPreferred Program."
Additional details outlining EPA's actions were laid out in a letter from Pruitt to New Hampshire Gov. Chris Sununu issued during the administrator's visit.
In a related development, the National Renewable Energy Laboratory is conducting a survey to give researchers a better understanding the next generation biofuel industry as a whole and its contributions to the local and national economy.
Questions cover facility types (pilot, demonstration and commercial scale) and status (planning stage, under construction or operational); the construction and operational start dates for biorefineries; respondent information (name, position, contact information); biorefinery construction phase; type of conversion technology; biorefinery construction costs; operating phase; and primary products, among others.
Conducting the survey is NREL's s Yimin Zhang and Marshall Goldberg, of MRG & Associates, an NREL subcontractor.
NREL says no individual responses will be published; only aggregate information will be used in the reporting of the survey results.
Access the survey by clicking HERE.
236 U.S. Mayors Write Pruitt Opposing Repeal of Clean Power Plan
In a comment letter submitted to EPA this week, 236 mayors from 47 states and territories voice opposition to efforts by the Trump administration and EPA Administrator Scott Pruitt to dismantle the Clean Power Plan (CPP).
President Trump campaigned on a vow to do away with the CPP, which was a principle tool former President Barack Obama planned to use to comply with U.S. carbon emission-reduction targets needed to meet obligations made under the 2015 Paris climate agreement. Trump announced in June his plan to pull the United States out of the pact, which has been adopted by nearly 200 countries to reduce emissions and hold the ongoing increase in global temperatures by no more than 2 degrees Celsius by 2050, stemming adverse conditions resulting from climate change.
Ending the CPP "would have devastating health and economic impacts on their communities, including exposing Americans to increased air pollution, worsening climate change and more extreme weather events," the letter from the mayors says.
Collectively representing more than 51 million residents, in 47 states & territories across the country, the mayors say repealing the CPP "would put our citizens at risk and harm our efforts to address the urgent threat of climate change."
The mayors say communities across the country are already experiencing the effects of climate change: sea level rise; hotter, longer, and more frequent heat waves; increased extreme weather; and many other harmful impacts. The future economic costs of climate change should not be overlooked, they write.
They cite a study showing than on the current path, the annual cost of coastal storm damage is expected to climb to as high as $35 billion by the 2030s, and coastal property valued at $66 to $106 billion will likely be underwater by 2050.
"No one is insulated from the impacts of climate change – people in cities of all sizes, along with suburban and rural communities are all at risk," the mayors write. "Residents of our communities have experienced harmful impacts of climate change such as dirtier air, increased heat-related illnesses and deaths, damaged and disappearing coastlines, longer droughts and other strains on water quantity and quality, and increasingly frequent and severe storms and wildfires."
They say reducing greenhouse gas emissions is essential to protect our citizens against the worst impacts of climate change, citing a peer reviewed study conducted by EPA projecting stark differences between a world in the year 2100 where global warming averages 2 degrees Celsius – a for which the Clean Power Plan is critical – and one in which global warming averages 4 degrees Celsius:
57,000 fewer domestic deaths per year due to poor air quality
12,000 fewer domestic deaths per year from extreme heat and cold in 49 U.S. cities
Up to $6.4 billion in avoided annual adaptation costs from severe precipitation in 50 U.S. cities
$3.1 billion in avoided annual damages and adaptation costs from sea level rise and storm surge on the coasts
Up to $2.5 billion in avoided damages from inland flooding.
The mayors cite community climate change adaptation and mitigation efforts that are currently underway, and effort by urban, suburban, and rural communities across the country to reduce their contributions to greenhouse gas emissions by investing in energy efficiency, committing to the use of clean energy resources, and reducing reliance on fossil-fueled energy sources.
"But the legal authority of cities and other municipalities generally extends only as far as their state governments and federal law allow, and as a result, our local efforts to address climate change are highly sensitive to national policies like the Clean Power Plan, which shape markets, steer state action, and have large direct impacts on nationwide emissions," the letter states.
The mayors say their communities "would benefit from the support and certainty that a federal framework for reducing the power sector's greenhouse gas emissions could provide. The Clean Power Plan, by providing such a framework, would enhance ongoing local efforts and enable new local initiatives to improve public health, increase air quality, and reduce greenhouse gas emissions through energy innovation."
The letter concludes with a reiteration of a statement delivered by 25 mayors during the course of the Clean Power Plan's development: "[W]e cannot act alone. We need the federal government to provide a path forward to making meaningful reductions in carbon pollution while preparing for the impacts of climate change."
Meanwhile, a former White House aide says the administration is considering rejoining the Paris agreement by 2020. Various reports have surfaced that Trump would consider renegotiating the U.S. position in the agreement and rejoining.
s
In the most substantial indication that Trump was looking at rejoining the agreement, former White House aide George David Banks told E&E news this week, he had a plan in place that brought the United States back into the international accord. Banks left the White House last week after it was disclosed he was ineligible for a high-level security clearance due to a past marijuana conviction.
Banks said the plan calls for Trump to announce the renewed participation in 2020 when it can be politically maximized for U.S. elections that year.
Coalition Calls on Groups to Sign Letter in Support of Farm Energy Programs
The Ag Energy Coalition is sponsoring a letter support of the Farm Bill Energy Title Programs and is inviting businesses and organizations to join them in their message to House and Senate Agriculture Committee leaders.
The letter is urging Sens. Pat Roberts (R-KS) and Debbie Stabenow (D-MI), the chairman and ranking minority member, respectively, of the Senate panel, and Reps. Mike Conaway (R-TX) and Colin Peterson (D-IL), the chairman and ranking member, respectively, of the House committee, to reauthorize and maintain stable mandatory funding for energy title programs in the next farm bill reauthorization.
A new five-year, farm legislative package is being drafted and the coalition and other supporters want lawmakers to ensure the energy programs continue to leverage private sector investment and expand clean energy opportunities for rural areas.
The coalition is calling on other organizations to sign the letter by next Wednesday, Feb. 28. The 25x'25 Alliance signed on to the letter this week.
Among the programs cited by the coalition is the Rural Energy for America Program (REAP) supports a wide array of agriculture-based energy efficiency and renewable energy projects through grants and loan guarantees that have supported nearly 13,000 projects and leveraging more than $3 billion in private investment. The program allows farmers to save on energy bills and become energy producers, all while creating jobs in manufacturing, installing and maintaining renewable energy and energy efficient systems.
The Biorefinery, Renewable Chemical and Biobased Product Manufacturing Assistance Program provides critical financing for commercial-scale advanced biorefineries. It reduces investor risk, provides good-paying construction and operation jobs, and broadens the feedstocks used to develop biofuels. Unfortunately, this program currently has no funding.
Similarly, the Biomass Crop Assistance Program (BCAP) ensures that advanced biorefineries will have the biomass energy feedstocks they need to make the sector successful. BCAP provides assistance to help farmers and foresters plant and collect next-generation, purpose-grown energy crops and other biomass key to ensuring the near-term commercialization of low-carbon advanced biofuels, biopower and bioproducts. The program has been decimated over the past two appropriation cycles.
"It is essential that a healthy, robust bipartisan energy title continue as part of new comprehensive agriculture legislation," the letter states. "We also strongly recommend common sense improvements to make these programs even more valuable in impacting a broader array of technologies."
The letter says that for more than 15 years, federal leadership has paid off, with rural economic development, jobs, manufacturing and environmental quality all seeing quantifiable and substantial gains.
"All of this happened with an incredibly modest, cost-effective investment," the letter says, noting that energy title programs account for less than one tenth of 1 percent of farm bill spending, yet provide outsized benefits.
"Public/private investments through farm energy and bioeconomy programs are generating innovation and growth opportunities at a time rural America sorely needs it," the coalition writes.
The programs have historically provided the means for ag-based entrepreneurs to launch initiatives to generate jobs and economic development – from wind, geothermal, hydro and solar power, to biogas and advanced biofuels, to biopower, biobased products, renewable chemicals, and energy efficiency.
Program improvements cited by the letter include opening the Biorefinery Assistance Program fully to standalone renewable chemical companies to participate. REAP can be enhanced to support a fuller range of important, proven and market-ready technologies. And BCAP can be effective in continuing to support biomass energy development and sustainably address hazardous fuels reduction efforts in our nation's forests.
Congressional support of the programs with strong mandatory funding is critical, given pressing needs in rural America, the coalition letter states.
Organizations may sign on to the letter by clicking HERE.
Commerce Department Hands Down Sanctions on Imported Biodiesel
The Commerce Department announced this week its final determinations in antidumping charges brought against biodiesel imports from Argentina and Indonesia.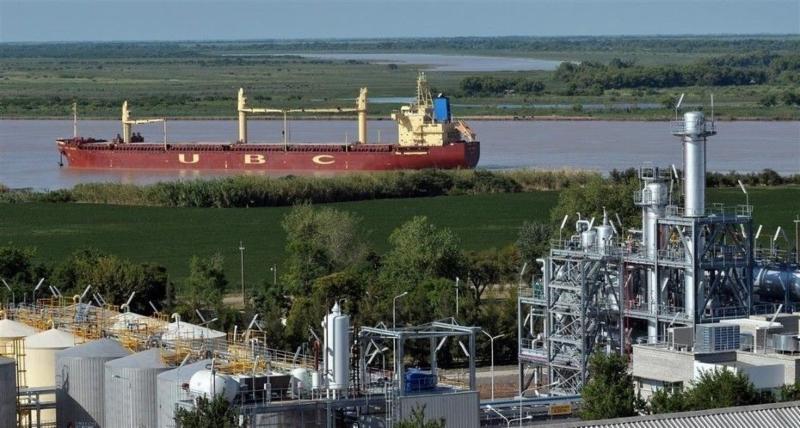 Beginning once the final determination is published in the Federal Register, likely next week, U.S. Customs will be collecting from importers, ranging from 60.44 percent to 86.41 percent for Argentinian biodiesel entering the United States, and from 92.52 percent to 276.65 percent for biodiesel from Indonesia.
In 2016, imports of biodiesel from Argentina and Indonesia were valued at an estimated $1.2 billion and $268 million, respectively.
"Today's decision allows U.S. producers of biodiesel to receive relief from the market-distorting effects of foreign producers dumping into the domestic market," Commerce Secretary Wilbur Ross said. "While the United States values its relationship with Argentina and Indonesia, even our closest friends must play by the rules."
The determinations come on a petition filed last year by the National Biodiesel Fair Trade Coalition, an ad hoc association composed of the National Biodiesel Board (NBB) and 15 domestic producers of biodiesel.
In November, the U.S. International Trade Commission (ITC) voted 4-0 in determining that the biodiesel industry here has suffered because of unfairly subsidized imports of biodiesel from Argentina and Indonesia.
"It is reassuring to see the administration enforcing policies that put America first," said NBB Vice President of Federal Affairs Kurt Kovarik in response to the Commerce Department announcement. "Today's decision provides room for the domestic biodiesel industry to flourish and produce more volumes of this American-made fuel, which provides so many economic and environmental benefits.
"The biodiesel industry already deals with policy uncertainties, such as lapsing tax credits and annual unpredictability with the Renewable Fuel Standard, so we appreciate seeing illegally dumped imports remedied," Kovarik added. "We look forward to continuing our focus on growing the domestic industry that supports roughly 64,000 jobs across the nation."
The duty deposit requirements are in addition to deposits required by final countervailing duty orders published earlier this year. The final countervailing duty orders followed affirmative findings that unfairly subsidized biodiesel imports from Argentina and Indonesia injured the U.S. biodiesel industry. A final determination by the ITC in connection with the antidumping case is expected in March or April.
In October, a mix of large and small producers testified on the volume and price effects of biodiesel imports from Argentina and Indonesia, and the related impacts to the industry at a hearing before the ITC.
The NBB Fair Trade Coalition says the U.S. market was flooded with subsidized and dumped imports from Argentina and Indonesia prevented producers from earning adequate returns on their substantial investments and caused U.S. producers to pull back on further investments to serve a growing market.
Biodiesel imports from the two nations surged by 464 percent from 2014 to 2016, taking 18.3 percentage points of market share from U.S. manufacturers. Imports of biodiesel from Argentina again jumped 144.5 percent in 2017 following the filing of the petitions. Indonesia has shipped no exports here since the end of 2016.
In another trade-related development, the Renewable Fuels Association (RFA) says U.S. exports of distillers grains (DG) – a high protein co-product of dry mill ethanol production used to feed livestock and poultry – totaled 11.08 million metric tons (MMT) in 2017, a 2-percent decrease from 2016 and the lowest in four years.
U.S. DG exports had a total aggregate value of $1.86 billion in 2017, down 14 percent from 2016 and the lowest in seven years.
The lower totals, the RFA says, stems from an 84-percent drop in DG exports to China, a country that has imposed punitive anti-dumping and countervailing duties against U.S. product.
"After serving as the top destination for U.S. DG exports five years in a row, China fell to eighth place in 2017," says a summary of 2017 ethanol co-product trade data published this week by the RFA. "Just 3 percent of U.S. DG exports went to China in 2017, after the country accounted for 51 percent of the record exports experienced in 2015."
An estimated 29 percent of U.S. DG production was exported in 2017, meaning nearly one-third of all production was exported to 50 countries on five continents last year. Mexico was the leading destination for U.S. DG, representing 20 percent, followed by Turkey (13 percent), South Korea (9 percent), Thailand and Indonesia (each at 7 percent), and Canada (6 percent).
State Roundup: Big Michigan Utility Announces 40x'40 Plan
In Michigan, Consumers Energy says it will reduce carbon emissions by 80 percent and no longer use coal to generate electricity by 2040. The company also said today that more than 40 percent of the energy produced will come from renewable sources and energy storage by 2040.
"Our actions speak louder than words and we have a track record of doing more than is required," said Patti Poppe, president and CEO of Consumers Energy & CMS Energy. "Our actions to date have reduced our carbon intensity by 38 percent…We are still not satisfied. The goals announced today represent our further commitment to leave Michigan far better than we found it, because we live here, too."
Consumers Energy cites a strong track record of environmental stewardship, noting the utility has ranked as one of the Top 10 Greenest Companies in the Nation and the number 1 company in Michigan in Newsweek's annual rankings; and scored highest for sustainability performance among U.S. utility companies and ranked 16th among 195 global utilities, as assessed by Sustainalytics, for the second consecutive year.
The company began moving away from coal by closing seven of its twelve coal-fired generating plants in 2016 – more than any investor-owned utility that year, resulting in a 38 percent carbon intensity reduction from 2008 levels. It also announced last year a Large Customer Renewable Energy Tariff program, which allows large job-providing companies who elect to generate 100 percent of their energy with renewable sources from Consumers Energy. The company owns and operates two wind farms, operates two utility-scale solar projects, utilizes energy from the Apple Blossom wind park; and co-owns the Ludington Clean Pumped Storage facility, a hydroelectric plant on Lake Michigan.
Consumers Energy follows last year's announcement from DTE, the state's largest power supplier, that the Detroit-based utility plans an 80-percent cut in carbon emissions by 2050, helped by phasing out its remaining coal-fired power and have a portfolio of at least 40 percent renewable energy by 2040.
DTE, which along with Consumer's Energy provides most of the state's power, said it will close down eight coal-fired units at three plants between 2020 and 2023, with just six coal-fired units operating beyond that.
In Georgia, First Solar Inc. is set to proceed with development and construction of a 200-megawatt (MW) photovoltaic (PV) solar power plant in Twiggs County. Upon completion and commissioning, which his expected in 2019, the facility will be the largest stand-alone PV solar plant in the southeastern United States.
First Solar was awarded the installation as part of a 525MW Request for Proposals for Georgia Power's Renewable Energy Development Initiative (REDI).
"This is a tremendously exciting opportunity for First Solar to demonstrate our capability to develop solar assets in the Southeast and help Georgia Power meet the renewable energy needs of its customers," said Kathryn Arbeit, vice president of Project Development – Americas for First Solar. "Georgia Power's significant commitment to renewable energy, paired with Twiggs County's strong leadership and supportive business environment, combine to serve as a great example of how solar can be seamlessly included in the region's energy mix."
The solar project is currently in an advanced development stage, and is being developed under a Power Purchase Agreement with Georgia Power for the electricity and renewable attributes generated by the facility. Construction is expected to begin in November.
"We are committed to working with the Georgia Public Service Commission to create programs, like REDI, that help grow renewable energy in Georgia and add value for all of our customers," said Wilson Mallard, director of Renewable Development for Georgia Power. "Recently completed large-scale solar projects across Georgia are serving customers today, and the Twiggs County project will be the latest addition, allowing Georgia Power customers to benefit from cost-effective, competitive solar as part of our diverse generation mix."
The project will be built on 2,000 acres of land near Warner Robins. Using over half a million of First Solar's advanced technology thin film solar modules, the power plant is expected to generate more than 450 gigawatt-hours of electricity annually. It will also be the largest infrastructure project in Twiggs County, which will see the economic benefit of 300-400 jobs during construction and ongoing tax revenues from the project.
"The Board of Commissioners extend a hearty Twiggs County welcome to First Solar," said Ken Fowler, Chairman of the Twiggs County Commission. "We look forward to collaborating with our new partners on the biggest solar project in the state that will bring much needed jobs and economic benefits to the Geographic Center of Georgia."
_____________________________________________________________
Editor's Note: We here at 25x'25 welcome companies and organizations with a major stake in the continued growth and development of renewable energy across America. We invite those interests to increase visibility and demonstrate a commitment to a clean and economically vibrant energy future by taking advantage of opportunities to sponsor The 25x'25 Weekly REsource, a highly acclaimed newsletter distributed to key state and federal policy makers, their staff and a wide range of stakeholder organizations. For sponsorship information, click HERE.
Upcoming Events

ACORE Sets Renewable Energy Forum for March 14
The American Council on Renewable Energy is staging a forum on the many federal policy challenges the renewable sector has faced in the last year and how best to respond to them in the year ahead.
The forum is set for March 14 at the Washington Marriott at Metro Center.
Featured speakers include Senate Energy and Environment Committee Chair Lisa Murkowski (R-AK), the committee's ranking member, Sen. Maria Cantwell (D-WA), and Senate Finance Committee member Sheldon Whitehouse (D-IL).
A featured session will be "American Renewable Energy Competitiveness: The Impact of Solar Tariffs." High levels of U.S. investment in the renewables sector is important to maintaining our leadership role in a booming industry sector that was pioneered by American scientists and engineers. This session will evaluate the scope of the global business opportunity for renewable energy and the positioning of U.S. companies to compete.
As the Trump administration responds to international trade concerns with new tariffs, panelists will discuss strategies to stimulate the continued growth of the American renewable energy sector. Topics will include:
Solar tariffs and international trade
Stimulating development and investment in the U.S.
Size of the global market; opportunities for export
Supporting advanced technologies that grow our footprint
Other agenda highlights include Andy Ott, CEO of PJM as keynote speaker, and sessions on:
Renewable Energy Finance in the New Tax Law
Boosting America's Renewable Energy Dominance
A Resilient, Reliable and Renewable Grid
The New Renewables Alliance: Cities, States and Businesses
To view the forum agenda, click HERE.
To register, click HERE.
For information on sponsorship opportunities, please contact Cindi Eck at [email protected].
On the eve of the forum, ACORE is hosting the American Renewable Energy Gala, an annual networking dinner and award ceremony. The 2018 American Renewable Energy Gala will be held on Tuesday, March 13, at the Reagan Building and International Trade Center, where more than 400 financial, corporate, industry leaders and policymakers will gather to reflect on the achievements, challenges and growth opportunities for the renewables sector.
Table sponsorships for the gala are now available. Please contact Cindi Eck at [email protected]
Discounted hotel accommodations at the Marriott at Metro Center are available only through next Wednesday. A special rate for Policy Forum attendees is $359.00 per room per night. Book online or at 202-824-6141.
Registration Available for ACE's 10th Annual D.C. Fly-In
The American Coalition for Ethanol (ACE) formally announces the organization's 10th annual Washington, D.C. fly-in will take place March 21-22. Registration for this event and ACE's 2018 advertising and sponsorship guide for this opportunity and others are available at ethanol.org/events/fly-in.
"The purpose of our fly-ins is to put a human face on the ethanol industry and to communicate our policy priorities to Members of Congress and Executive Branch decision makers," said Brian Jennings, ACE CEO. "The most effective lobbyists aren't lobbyists at all, but rather farmers, ethanol producers, Main Street business leaders, retailers selling higher ethanol blends, and other grassroots individuals whose daily lives benefit from ethanol."
This past spring, 75 ethanol advocates met with more than 120 Members of Congress from 35 states. Participants included ethanol company investors and management, corn farmers, scientists, fuel marketers and gas station owners, with representation from Jetz, Cresco Fast Stop, Midway Service, Good & Quick, Sheetz, and Propel Fuels.
"In ACE's 10 years of hosting D.C. fly-ins, we've found that the most successful ones strike a balance between Hill visits with our champions and those with Members of Congress who may be new, opponents of our policy priorities, or live outside the Corn Belt," said Shannon Gustafson, ACE senior director of Operations and Programming. "We encourage participants to share personal stories – Members of Congress and their staff hear from lobbyists and association staff regularly, but a deeply personal perspective of how the ethanol industry has directly benefitted a participant may help them view a topic with fresh eyes."
During Capitol Hill meetings, ACE and its fly-in attendees have emphasized the need to maintain support for the Renewable Fuel Standard, urged Members of Congress to cosponsor legislation to extend Reid vapor pressure (RVP) relief to E15 (S. 517 and H.R. 1311), and discussed the importance of the biofuels sector to a robust rural economy.
"While we are pleased the statutory 15-billion-gallon volume for conventional biofuel will be maintained in 2018 and EPA rejected pleas to change the point of obligation, more can and should be done to overcome regulatory hurdles which prevent market access to higher ethanol blends," Jennings said. "We encourage people from all walks of life who support ethanol to register for this important opportunity to tell this industry's success story."
The meetings will take place at the Liaison Capitol Hill hotel and on Capitol Hill. To register and find out more information about the event, please contact Shannon Gustafson at [email protected].
ACE's Ethanol Today magazine released its lineup of themes and sponsorship opportunities for 2018. The editorial calendar and media kit are available at ethanoltoday.com. The newly released sponsorship and advertising guide offers bundled Ethanol Today advertising opportunities with ACE event sponsorships. Contact Chuck Beck at [email protected] to find out how you can maximize your reach while minimizing the expense.
Other events of interest to 25x'25 partners and other renewable energy stakeholders can be found by clicking
here
.